A foolproof portable probe for cancer surgery
Canadian researchers have invented a preoperative probe that will unfailingly detect tumour cells for several types of cancer. Patients with common forms of cancer can hope to live longer and reduce the risk of cancer recurrence thanks to a multimodal optical spectroscopy probe developed by Canadian researchers.
In 2015, scientists from Polytechnique Montréal, the University of Montreal Hospital Research Centre (CRCHUM) and the McGill University Health Centre (MUHC) developed a portable Raman spectroscopy probe that allows surgeons to accurately detect almost all cancer cells in real time during brain operations.
The researchers have now perfected this invention and designed a new device that is more accurate, sensitive and specific, able to detect not only cancer cells in the brain, but also those in the colon, skin, and lungs. During preoperative assessments, the multimodal optical spectroscopy probe was able to unfailingly detect cancer cells with a sensitivity of 100%; in other words, when the probe is pointed towards a cancerous region, it is never wrong.
This breakthrough, published on June 28th in the American Association for Cancer Research's journal Cancer Research, is the result of collaboration between engineer Frédéric Leblond and neurosurgical oncology specialist Kevin Petrecca.
"The probe that we designed allows us to detect nearly 100% of the cancer cells in the brain. This is a very important breakthrough," declared Frédéric Leblond, a professor in the Department of Engineering Physics at Polytechnique Montréal and a researcher at the University of Montreal Hospital Research Centre (CRCHUM). "We also showed that our technology is effective in treating other types of cancer, which means that more patients will benefit from improved diagnoses and more effective treatment and a reduced chance of recurrence," he added.
The major advantage of this system is that it allows surgeons to detect cancer cells in real time during surgery, which is not easy to determine with the naked eye.
"A technology with an extremely high level of accuracy is needed because surgeons will use the information collected to determine whether tissues contain cancer cells or not. An important characteristic of this probe is its broad applicability. We have determined that it can efficiently detect many types of cancers, including brain, breast, lung, colon and skin cancer," asserted Petrecca.
A probe that combines many technological modalities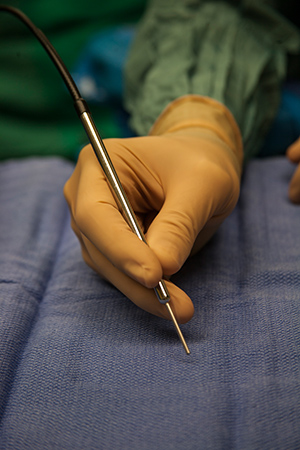 The preoperative probe developed in the Montreal laboratories utilizes Raman spectroscopy technology, which was used in the first-generation probe to interpret the molecular composition of the organic tissue being probed. First developed in 2015 and tested in surgeries on more than 80 patients, the probe was then perfected by the researchers. The new version is multimodal, which means that it also incorporates intrinsic fluorescence spectroscopy for the interpretation of the metabolic composition of the cells, as well as diffuse reflectance spectoscopy to analyze intrinsic tissue absorption in patients.
During recent surgical trials with 15 other patients, the sequential use of these high-sensitivity spectroscopy techniques built into a single sensor, combined with stimulating lasers, a highly sensitive camera and a spectrometer, yielded spectacular results. The surgeon benefited from molecular imagery providing an unprecedented degree of accuracy, improving cancer detection sensitivity by about 10% when compared to that offered by the first-generation probe.
Clinical trials
The first-generation Raman spectroscopy probe is presently the subject of a randomized controlled trial involving patients with gliomas. This study will be the first in the world to show the clinical benefits of the use of a preoperative probe during brain surgeries. The results will make it possible to establish the protocol of the next clinical trial for the second-generation multimodal probe.
In 2015, Petrecca and Leblond founded a company (ODS Medical) to commercialize the probe. They began the formal approval process with the Food and Drug Administration (FDA), with an eye to transferring the technology to hospitals within the next few years.
About this study
The study "Highly accurate detection of cancer in situ with intraoperative, label-free, multimodal optical spectroscopy" was published in the American Association for Cancer Research's journal Cancer Research on June 28, 2017. The research received financial support from the Fonds de recherche du Québec - Nature et technologies, the Natural Sciences and Engineering Research Council of Canada, the Collaborative Health Research Projects (CIHR and NSERC), the Biomedical Science and Technologies Research Centre and from the National Bank of Canada. The authors are Michael Jermyn, Jeanne Mercier, Kelly Aubertin, Joannie Desroches, Kirk Urmey, Jason Karamchandiani, Eric Marple, Marie-Christine Guiot, Frederic Leblond and Kevin Petrecca.
DOI: 10.1158/0008-5472.CAN-17-0668
A foolproof portable probe for cancer surgery
Contribution