M.D., M.Sc.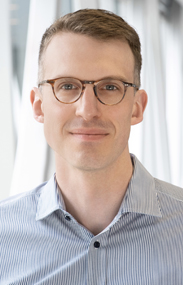 Centre de recherche du CHUM
Neuroradiologist
Department of Radiology, CHUM
Clinical Associate Professor
Department of radiology, radio-oncology and nuclear medicine, Université de Montréal
Contact
laurent.letourneau-guillon.1@umontreal.ca
514-890-8450
> Twitter
The patient who needs immediate assistance should not communicate directly with the researcher. Instead, they should call the doctor's office or take other appropriate measures, such as going to the nearest emergency service.
Keywords
Stroke
Neuroimaging
Neuroradiology
Computed tomography (CT)
Magnetic resonance imaging (MRI)
Intracranial hemorrhage
Medical imaging segmentation
Machine learning
Research interests
Development and validation of image-based hemorrhagic stroke outcome prediction models.
Development and validation of data-driven neuroimaging analysis applications.
Image segmentation applied to neuroimaging.
Intra- and inter-rater reliability in clinical neuroimaging.
High-resolution intracranial vessel wall imaging (MRI).
Publications