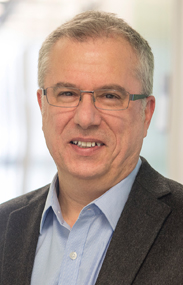 CHUM Research Centre
Director
Radiochemistry and Cyclotron core-facility, CRCHUM
Full professor
Department of radiology, radiation oncology and nuclear medicine, Université de Montréal
Full professor
Department of pharmacology and physiology, Université de Montréal
Contact
jean.dasilva@umontreal.ca
514 890-8000, ext. 30653

The patient who needs immediate assistance should not communicate directly with the researcher. Instead, they should call the doctor's office or take other appropriate measures, such as going to the nearest emergency service.
Keywords
Radiochemistry, PET molecular imaging, medical chemistry, cardiovascular diseases, neuroscience, oncology and diabetes.
Research interests
Development of new tracers for PET imaging.
Translational research from chemistry to PET imaging in cells, animal and human models to provide insights into understanding pathophysiology, and evaluate progression and treatment of disease at the molecular level.
Study of altered signal transduction of various neurotransmission systems.
Study of altered metabolic mechanisms.
Publications