M.D., M. Sc., FRCPC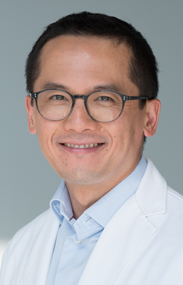 CHUM Research Centre
Radiologist
CHUM
Full Professor
Department of radiology, radio-oncology and nuclear medicine, Université de Montréal
Contact
an.tang@umontreal.ca
514 890-8000, ext. 31418
> Twitter
> LinkedIn
The patient who needs immediate assistance should not communicate directly with the researcher. Instead, they should call the doctor's office or take other appropriate measures, such as going to the nearest emergency service.
Keywords
Magnetic resonance imaging (MRI), ultrasound, elastography, steatosis, fibrosis, liver, abdomen, cancer.
Research interests
Development, validation and clinical translation of imaging-based biomarkers of chronic liver disease.
Modalities: magnetic resonance imaging (MRI), computed tomography (CT), ultrasound (US), elastography.
Pathologies: chronic liver disease, steatosis, steatohepatitis, liver fibrosis, hepatocellular carcinoma (HCC).
Projects funded by the Canadian Institutes of Health Research (CIHR), Fonds de recherche du Québec en Santé (FRQS) and Fondation de l'association des radiologistes du Québec (FARQ).
Publications
Publications indexed on PubMed
News
Health and AI: Drs. Chassé and Tang part of a team funded by IVADO