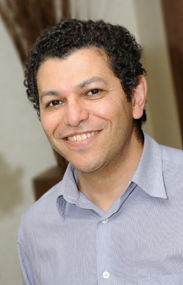 CHUM Research Centre
Contact
514 890-8000, ext. 24643

The patient who needs immediate assistance should not communicate directly with the researcher. Instead, they should call the doctor's office or take other appropriate measures, such as going to the nearest emergency service.
Other affiliations
Professor
Department of Automated Manufacturing Engineering, École de technolohie supérieure (ETS)
Associate researcher
Institut de réadaptation Gingras-Lindsay-de-Montréal (IRGLM)
Keywords
3D musculoskeletal kinematics modeling, osteoarthritis / cartilage, rehabilitation engineering, human locomotion, 3D inverse dynamics, spinal cord injury, haptic simulation and virtual reality, inertial systems, surface electromyography, virtual manikin.
Research interests
Gait analysis for knee osteoarthritis
Friction estimation in osteoarthritis knee using a poro-visco-elastic models
Assymetry in cerebro-vascular patient during gait walking
3D kinematic modeling using quaternion algebra
Biomechanics of manual wheelchair propulsion in spinal-cord injury
Haptic Learing in SCI in wheelchair simulator
Application of Virtual Environment in rehabilitation of cerebro-vascular accident patient
Developement of inertial sensors for gait analysis
Publications