B. Pharm, M. Sc., Executive MBA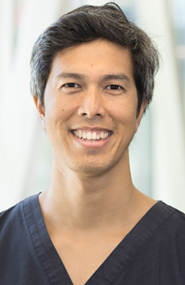 CHUM research centre
Pharmacist
CHUM
Contact
patrick.nguyen.chum@ssss.gouv.qc.ca

The patient who needs immediate assistance should not communicate directly with the researcher. Instead, they should call the doctor's office or take other appropriate measures, such as going to the nearest emergency service.
Other affiliations
Quebec Network for Research on Aging
Keywords
Aged, delirium, drugs, osteoporosis.
Research interests
OLDIES : The Optimizing deLirium Drug therapy In Elderly inpatientS
Evaluation of the risk of adverse reactions in elderly hospitalized patients taking bisphosphonates.
OrthoRx : Evaluation of the association between medication and orthostatic hypotension in elderly hospitalized patients.
Publications
Publications indexed on PubMed