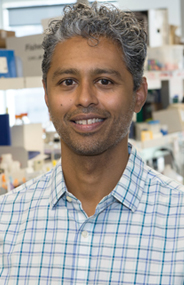 CHUM Research Centre
Associate Professor
Department of Neuroscience, Université de Montréal
Chairholder
Canada Research Chair in Stem Cell Neurobiology
Contact
karl.jl.fernandes@umontreal.ca
514 890-8000, ext. 31279

The patient who needs immediate assistance should not communicate directly with the researcher. Instead, they should call the doctor's office or take other appropriate measures, such as going to the nearest emergency service.
Other affiliations
Central Nervous System Research Group (GRSNC), Université de Montréal
Keywords
Stem cells, cell culture, cell signaling, neurodegenerative diseases, microscopy, in vivo.
Research interests
Stem cells
alzheimer's disease
aging
spinal cord injury
exercise and the brain
lipid metabolism
Publications