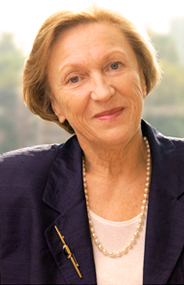 CHUM Research Centre
Director
Laboratory of cardiovascular biochemistry, CRCHUM
Full professor
Department of medicine, Université de Montréal
Contact
jolanta.gutkowska@umontreal.ca
514 890-8000, ext. 12731
The patient who needs immediate assistance should not communicate directly with the researcher. Instead, they should call the doctor's office or take other appropriate measures, such as going to the nearest emergency service.
Other affiliations
Adjunct professor
Faculty of experimental medicine, McGill University
Keywords
Natriuretic peptides, oxytocin, cell differentiation, heart failure, exercise, cardiovascular diseases, cardiovascular system, cell therapy, physiology.
Research interests
The role of natriuretic peptides, oxytocin and nitric oxide in stem cell differentiation into functional cardiomyocytes and applications in cardiac regeneration.
The effect of exercise on cardioprotective hormonal systems during menopause and diabetes.
The mechanism of the cardioprotective role of oxytocin.
The effect of oxytocin on mitochondrial function.
The beneficial role of oxytocin in type 2 diabetes.
Publications