R.N. B. Sc.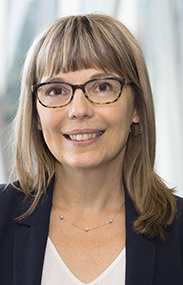 CHUM Research Centre
Clinical activities specialist
Information technology and telecommunications department, CHUM
Contact
helene.fregeau.chum@ssss.gouv.qc.ca
514 890-8000, ext. 22116
> Twitter
> Linkedin
The patient who needs immediate assistance should not communicate directly with the researcher. Instead, they should call the doctor's office or take other appropriate measures, such as going to the nearest emergency service.
Keywords
Implementation of health electronic records, informatics competencies, nursing practice.
Research interests
Analysis of the implementation of the clinical integration during the CHUM's move, the french translation and validation of a Canadian Nurse Informatics Competency Assessment Scale
Research Interests
Communication between IT and clinical staff, cognitive workload among nurses, clinical integration as well as informatics competencies of clinical staff.
Publications