M. Sc., Inf.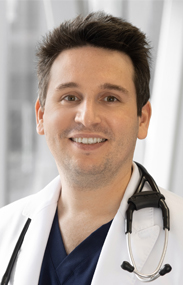 CHUM research centre
Nurse practitioner in cardiology
CHUM
Contact
francois-adrien.duvauchelle.chum@ssss.gouv.qc.ca
438 397-2048
> Linkedin

The patient who needs immediate assistance should not communicate directly with the researcher. Instead, they should call the doctor's office or take other appropriate measures, such as going to the nearest emergency service.
Keywords
Cardiology
Research interests
Povidone iodine and SARM
Teach back in heart failure
Ivabradine in cardiac surgery
Delirium in cardiac surgery
ERACS
Frailty in TAVR
Ambulatory glucose meter