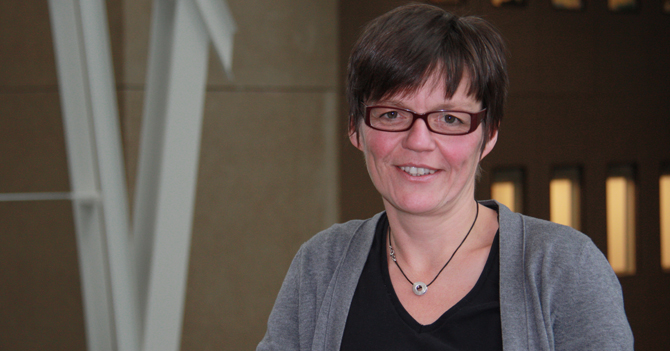 For the CRCHUM Conference on January 29, we will welcome Sabine Gilch, Associate professor at the University of Calgary and Canada Research Chair in Prion Disease Research.
Prions are proteinaceous infectious particles formed upon structural conversion of the host's cellular prion protein PrPC into a β sheet rich isoform termed PrPSc. PrPSc aggregates accumulate in neurons and other cells of infected individuals, eventually leading to neurodegeneration. Our work demonstrates that prion infection of neurons results in elevated cholesterol levels and impaired endocytic vesicle trafficking, and unravels new strategies to interfere with prion accumulation and extend survival times of prion-infected mice, e.g. by activating cholesterol 24 hydroxylase, an enzyme critically important for cholesterol turnover in the brain.

---
FRIDAY, JANUARY 29, 2021 – 12 P.M. TO 1 P.M.
*You will receive a confirmation email containing the information you need to join the meeting.

Sabine Gilch is Canada Research Chair in Prion Disease Research and Associate Professor. She received a Ph.D. in Molecular Biotechnology and Prion Biology in 2009 from the Technical University of Munich. After postdoctoral studies at the Technical University of Munich and the University of Wyoming she joined the University of Calgary, Faculty of Veterinary Medicine in 2013. Her research focusses on studying the interference of prion aggregates with neuronal metabolism and using that knowledge to elucidate new drug targets for the treatment of prion diseases, as well as understanding the dynamics of chronic wasting disease prion strains and its potential of zoonotic transmission. She has published 67 peer-reviewed articles and several book chapters and was named a University of Calgary PEAK Scholar for Excellence in Entrepreneurship, Innovation and Knowledge Engagement.
> More information about her lab and research

Invited by Martine Tétreault
Neuroscience theme
We look forward to seeing you connected in large numbers!

---
ABOUT CRCHUM CONFERENCES
The CRCHUM Conferences are free weekly meetings featuring renowned scientific speakers from various disciplines.
> Schedule of the CRCHUM Conferences