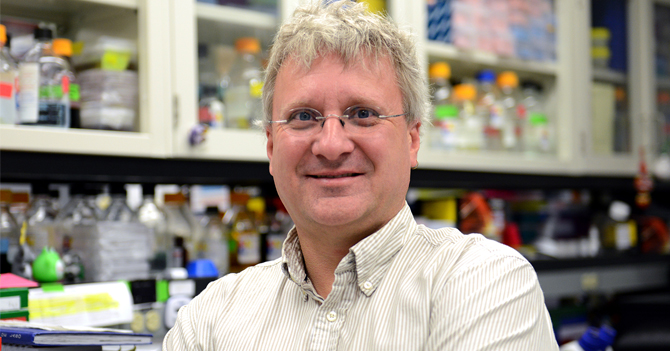 For the CRCHUM conference on December 4th, we will welcome Frank Beier, who is the Canada Research Chair in Musculoskeletal Research at the University of Western Ontario and a member of Western's Bone and Joint Institute. He is a Professor and Chair of the Department of Physiology and Pharmacology

Osteoarthritis (OA) is one of the most common diseases of aging and a major contributor to disability. Our treatment options for OA are very limited, in large part because the underlying mechanisms are poorly understood. In the past, we have performed microarray analyses of cartilage gene expression in multiple rodent models of OA as a first step in the identification of these mechanisms. Two examples of functional studies on genes identified in these screens will be presented - the growth factor TGFalpha and the channel protein Pannexin 3. We will see how these studies contribute to a better understanding of OA pathogenesis and ultimately (hopefully) better management of the disease.

---
FRIDAY, DECEMBER 4, 2020 – 12 P.M. TO 1 P.M.
*You will receive a confirmation email containing the information you need to join the meeting.

Dr. Beier's lab explores mechanisms controlling cartilage and joint biology, both during development and in diseases such as osteoarthritis. He was one of the first researchers to apply genome-wide gene expression studies (first microarrays, then RNA sequencing) to models of osteoarthritis. He also was amongst the international pioneers in using genetically modified mice for osteoarthritis research. Amongst other accomplishments, his research first implicated the EGFR pathway, several nuclear receptors, and the channel protein Pannexin 3 in this disease. Based on the identification of these pathways as mediators of osteoarthritis pathogenesis, and therefore as potential targets for therapy, several of his current projects attempt to translate these basic findings towards clinical applications.
Dr. Beier has published 136 peer-reviewed articles and gave 126 invited presentations. His work is currently supported by a Foundation Grant from the Canadian Institutes of Health Research and funds from the NIH, and he held funds from The Arthritis Society, NSERC, and other agencies in the past. He was a member of the Board of Directors of the Osteoarthritis Research Society International (OARSI) and is a current member of several editorial boards, including Deputy Editor for Osteoarthritis & Cartilage. He was the Chair of the 2017 Cartilage Gordon Conference, was awarded the Basic Science Award from OARSI in 2019, and was recently induced as a Fellow of International Orthopaedic Research (FIOR).

Invited by Hassan Fahm
Immunopathology theme
We look forward to seeing you connected in large numbers!

---
ABOUT CRCHUM CONFERENCES
The CRCHUM Conferences are free weekly meetings featuring renowned scientific speakers from various disciplines.
> Schedule of the CRCHUM Conferences