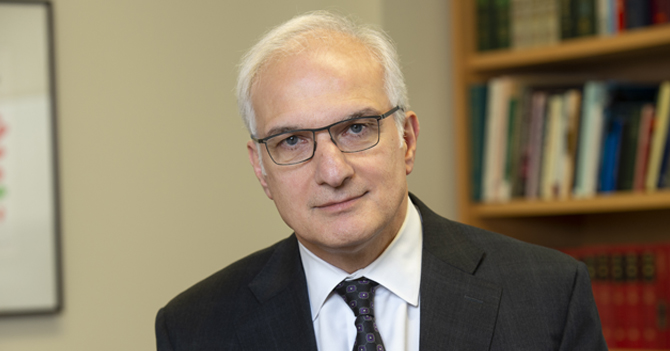 For the CRCHUM Conference on September 17, we are welcoming Dr Fadi G. Lakkis, he is the Scientific director of the Starzl transplantation Institute (STI). The mission of the STI has been to improve the clinical, scientific, and social aspects of transplantation. The breadth and depth of STI's efforts to develop innovative forms of transplantation distinguishes this transplant program from any other.

---
FRIDAY, SEPTEMBER 17, 2021 – 12 P.M. TO 1 P.M.
*You will receive a confirmation email containing the information you need to join the meeting.

Dr. Fadi Lakkis is Distinguished Professor of Surgery and Professor of Immunology and Medicine at the University of Pittsburgh. He received his medical degree from the American University of Beirut, Lebanon, and his fellowship training in Nephrology and Transplantation Immunology at the Beth Israel Hospital, Harvard Medical School. Dr. Lakkis joined the University of Pittsburgh in 2005 as the Frank and Athena Sarris Chair in Transplantation Biology and the Scientific Director of the Thomas E. Starzl Transplantation Institute.
Funded by the NIH, work in Dr. Lakkis's laboratory is focused on two fundamental areas of transplantation immunology: (1) allorecognition in the innate immune system, using both invertebrate and vertebrate models of transplantation; and (2) the biology of memory T cells in organ transplantation in experimental animals and humans. Dr. Lakkis has received several awards in recognition of his research. He was the recipient of the Young Investigator Award of the American Society of Nephrology (ASN) in 2002 and the American Society of Transplantation Basic Science Established Investigator Award in 2009.
Immunological memory is a phenomenon by which immune cells can quickly recognize an antigen that the host has previously encountered. Certain cells of the innate immune system exhibit memory-like responses know as trained immunity. Rapid, antigen-specific secondary (anamnestic) responses were long thought to be the domain of B and T cells. We have shown that monocytes and macrophages can acquire memory specific for particular major histocompatibility complex I antigens using paired A-type immunoglobulin-like receptors (PIR-As). This pathway contributes to recognition of transplanted tissues from a donor of the same species. Genetic depletion or blockade of PIR-As in mice diminished chronic rejection of kidney and heart allografts. This work, which expands immunological memory to include myeloid cells, points to targets that may improve organ transplantation outcomes in the future.
Thomas E. Starzl Transplantation Institute | Fadi G. Lakkis

Invited by Mélanie Dieudé
Immunopathology Research Theme

We look forward to seeing you connected in large numbers!

---
ABOUT CRCHUM CONFERENCES
The CRCHUM Conferences are free weekly meetings featuring renowned scientific speakers from various disciplines.
> Schedule of the CRCHUM Conferences