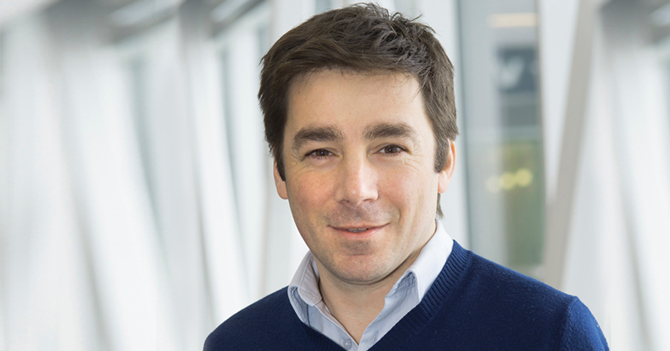 On Friday, March 25th, CRCHUM researcher Nicolas Chomont will give a CRCHUM conference presentation. He is a member of the Immunopathology Research Theme and is also an associate professor and researcher in the Department of Microbiology at the Université de Montréal.
Triple therapies have significantly improved the quality of life of people with HIV, but they do not completely eliminate the virus: HIV remains "hidden" in a small number of cells that can persist for the lifetime of the infected person, thanks to their survival and proliferation potential. These "HIV reservoirs" are a major barrier in the development of a cure. Our research aims to develop therapeutic strategies that will lead to their eradication, with the goal of curing HIV infection.

---
FRIDAY, MARCH 25, 2022 – 12 P.M. TO 1 P.M.
*You will receive a confirmation email containing the information you need to join the meeting.

Nicolas Chomont is an Associate professor in the Department of Microbiology and Immunology at the Université de Montréal – CHUM Research Centre. He obtained his PhD in medical virology at Pierre et Marie Curie University in Paris where he studied the interactions between HIV and the genital mucosa. From 2004 to 2009, he joined Pierre-Rafick Sekaly's team at the University of Montreal for his postdoctoral training. During this time, he described subsets of memory CD4 T cells that contribute to the persistence of HIV in infected individuals receiving antiretroviral therapy. He pursued his research as a principal investigator at the Vaccine & Gene Therapy Institute of Florida to characterize these reservoirs. Since 2015, at the Université de Montréal, Nicolas Chomont is
overseeing studies to unravel the molecular mechanisms involved in HIV latency and to develop novel therapeutic strategies aimed at eradicating HIV. His work focuses on the immunological mechanisms that are involved in the persistence of HIV-infected cells, and particularly on the role of T cell proliferation in that process.
Guest of Emmanuelle Brochiero, head of the Immunopathology Research Theme

We look forward to seeing you connected in large numbers!
---
ABOUT CRCHUM CONFERENCES
The CRCHUM Conferences are free weekly meetings featuring renowned scientific speakers from various disciplines.
> Schedule of the CRCHUM Conferences