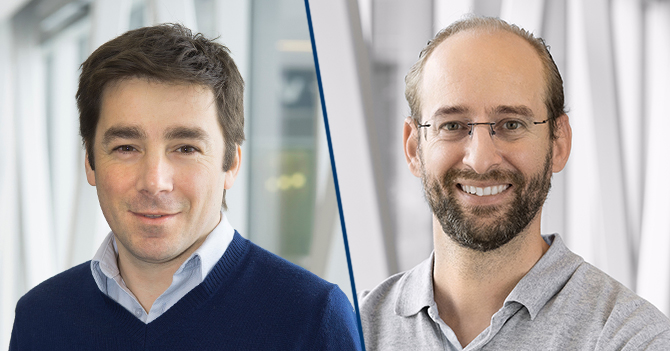 Through the Martin Delaney Collaboratories for HIV Cure Research, the National Institutes of Health (NIH) has awarded approximately $53 million in annual funding over the next five years to 10 research consortia to find a "cure" for HIV. Researchers Nicolas Chomont and Andrés Finzi are integral members of two of these international consortia. They are the only Canadians on these two multidisciplinary teams.
The Martin Delaney Collaboratories are the NIH's flagship funding mechanism for HIV cure research.
One of the grants will fund the Delaney AIDS Research Enterprise to Cure HIV (DARE) program led by Steven Deeks of the University of California at San Francisco. It will be co-directed by Sharon Lewin (University of Melbourne) and Louis Picker (Oregon Health and Science University). Nicolas Chomont is one of the associate researchers. Together, they propose an integrated immunological, virological and clinical approach to develop a therapy that will control the virus naturally (without triple therapy).
The research conducted in Nicolas Chomont's laboratory aims to better characterize the cells in which HIV persists in order to develop strategies that specifically target these viral reservoirs.
Since the majority of infected cells are located in deep tissues (intestine and lymph nodes), Nicolas Chomont's team will work with people living with HIV who generously agree to donate tissue or blood samples. The techniques developed in his laboratory will allow his team members to study each "reservoir" cell independently of the others and to define their characteristics in order to better target them with immunotherapy approaches.
Andrés Finzi is a member of the ERASE-HIV (Enterprise for Research and Advocacy to Stop and Eradicate HIV) consortium co-led by Mirko Paiardini, Guido Silvestri and Deanna Kulpa of Emory University in Atlanta.
He and his team will develop therapeutic strategies to direct so-called "killer" immune system cells to infected cells to eliminate them. Andrés Finzi will use a cocktail developed in Montreal composed of two antibodies naturally present in the plasma of HIV-infected people and a small molecule "can opener". This cocktail has already shown very promising results in a humanized mouse model. As part of his consortium, he will improve this cocktail to increase its ability to eliminate infected cells.
According to the World Health Organization, 38 million people were living with HIV at the end of 2019.