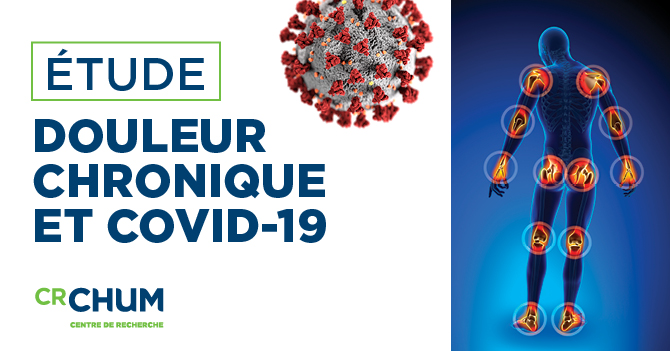 Did you know that, nationally, 20% of the adult population suffers from chronic pain? Lasting longer than three months, this pain may occur with no known cause or may be associated with headaches, arthritis or diseases such as cancer or diabetes.
Two CRCHUM researchers, Manon Choinière and Gabrielle Pagé, as well as their postdoctoral researcher Lise Dassieu, want to find out how the COVID-19 pandemic has affected the lives of these thousands of Canadians. Their goal? To determine how this additional source of stress affects their pain, quality of life and emotional well-being.
20 minutes for research
To shed light on these issues, the scientists are looking for 2,000 to 3,000 adults who have been living with chronic pain for more than three months.
Interested in participating? Complete this online questionnaire available in French and English. You'll be eligible to win one of ten Visa® gift cards, each with a value of $100. Your participation is confidential.
Thanks to the analysis of the data collected, the research team will be able to recommend procedures (information, interventions, etc.) that will improve the care provided to people living with chronic pain, both during and after the current pandemic.
Additional information:
The research team consists of our two researchers, their postdoctoral researcher and co-researcher Anaïs Lacasse (UQAT).
Camille Fauteux and Jacques Laliberté (Quebec Association for Chronic Pain); Maria Hudspith, Gregg Moor and Kathryn Sutton (Pain BC); James Thompson (Queen's University) and Linda Wilhelm (Canadian Arthritis Patient Alliance) are also collaborating on the project.

The project is funded by the Quebec Pain Research Network of the Fonds de Recherche du Québec — Santé, the Canadian Chronic Pain Network and Pain BC.

▸ Complete the online questionnaire