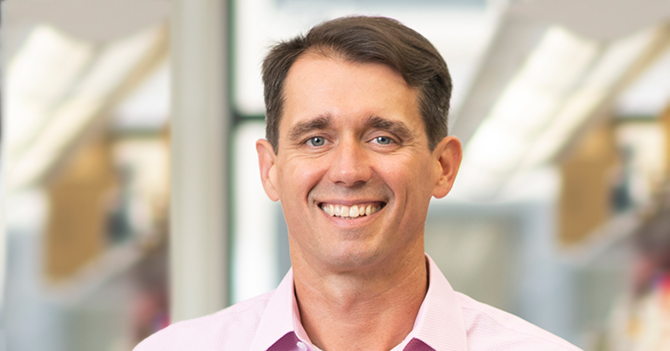 For the CRCHUM conference on October 15, we are welcoming Chris Dulla, Ph. D., Associate Professor of Neuroscience in the department of Cell, Molecular & Developmental Biology, Neuroscience at Tufts University, Boston.

Astrocytes control neurotransmission by rapidly binding neurotransmitters and removing them from the extracellular space, thereby presenting exuberant activation of brain circuits. Astrocytes have long been thought to be electrically passive, while neurons carry out all the "exciting" electrical activity. Here we use multiple novel imaging modalities to show that neuronal activity electrically "excites" astrocytes and that this excitation controls how astrocytes remove neurotransmitter from the extracellular space. This novel form of neuron-glia communication is essential to maintaining the fidelity of synaptic communication and is disrupted following traumatic brain injury.

---
FRIDAY, OCTOBER 15, 2021 – 12 P.M. TO 1 P.M.
*You will receive a confirmation email containing the information you need to join the meeting.

Chris Dulla is an associate professor in the Department of Neuroscience at Tufts University School of Medicine. Throughout his career, he has explored the synaptic and network level changes which transform the healthy brain into a brain that generates seizures. His research group has focused on how glutamate signaling is regulated in both the developing and mature cerebral cortex, and how disruption of glutamate signaling can predispose the brain to seizures. The team has expertise in utilizing in vitro and in vivo electrophysiology, imaging, biochemistry, genetics, and immunohistochemistry to understand how molecular, cellular, and synaptic events shape network activity and brain function.
Chris Dulla's past work has focused largely on mechanisms of epilepsy and how changes in early life brain development can cause alter cortical circuit function and predispose the brain to generate seizures.

Invited by Christine Vande Velde
Neuroscience Research Theme

We look forward to seeing you connected in large numbers!

---
ABOUT CRCHUM CONFERENCES
The CRCHUM Conferences are free weekly meetings featuring renowned scientific speakers from various disciplines.
> Schedule of the CRCHUM Conferences