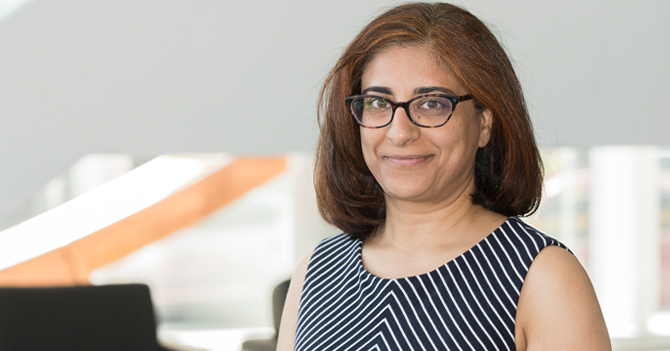 Lal Shalini
, a researcher at the University of Montreal Hospital Research Centre (CRCHUM) and an assistant professor at the Université de Montréal's School of Rehabilitation, has become the Canada Research Chair in Innovation and Technologies for Youth Mental Health Services.
In Canada, only a minority of young people receive the mental health care that they need, when they need it. In addition, information and communication technologies have been identified as being a promising avenue for mental health care accessibility for young people. These facts will inspire the work of the Chair, to enable the development, implementation and evaluation of internet-based innovations to improve access to, and the quality of, mental health services for teens and young adults.
Biographie
Shalini Lal is an assistant professor at the Université de Montréal Faculty of Medicine's School of Rehabilitation, a regular researcher at the CRCHUM, a research associate at the Douglas Mental Health University Institute and the director of the Innovation and Technology Lab for Youth Mental Health Services.
She worked for 10 years as a clinical service provider and clinical head with young people and their families in the mental health care system, holding different positions, including those of case manager, occupational therapist and clinical program coordinator, before undertaking her doctoral studies. Her research work has dealt with the impact of services on young people's resilience, their recovery and their engagement in these services, from their point of view and that of their family. She is interested in innovations and technology for mental health services to improve mental health care for young people and uses many qualitative and participatory methods and approaches in her research projects.
Shalini Lal has received many prestigious national and international awards, including the 2014 NARSAD Young Investigator Grant from the American Brain & Behavior Research Foundation, a salary award for new investigators from the CIHR and an FRQS Junior 1 research scholar grant.