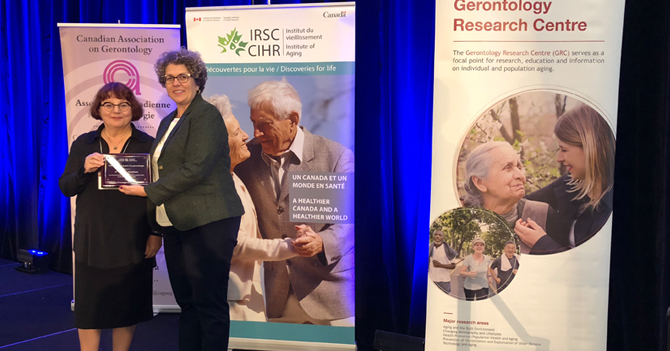 On 20 October 2018, Dr. Pierrette Gaudreau , a researcher at, CHUM Research Center (CRCHUM) was awarded the Contribution to Gerontology Award by the Canadian Association on Gerontology (CAG). The honorary plaque was presented by Professor Suzanne Dupuis-Blanchard, President of the CAG, at the organization's 47th Annual Scientific and Educational Meeting.
The CAG Awards were created to recognize individuals who contributed extensively in the field of gerontology. Pierrette Gaudreau earned this honor because of her outstanding contribution to the discipline of aging.
Pierrette Gaudreau is a professor in the Department of Medicine at the Université de Montréal (UdeM) and director of the Laboratory of Neuroendocrinology of Aging at CRCHUM. She is an associate researcher at the Research Center of the Institut Universitaire de Geriatrie de Montreal and Assistant Professor at the McGill University Research Center for Studies in Aging.
She is internationally recognized in the field of neuroendocrinology and the neurobiology of aging. Her current research focuses on neuroscience / cognition, endocrinology and nutrition and aims to understand the central and peripheral mechanisms, at molecular and cellular level, that contribute to healthy aging, using preclinical modeling approaches as well as by cohort monitoring of older people. She is also conducting research on the identification of biomarkers predicting the health status of aging, with the goal of developing early interventions that promote healthy aging.
---
Photo : Pierrette Gaudreau, researcher at CRCHUM and Suzanne Dupuis-Blanchard, president of CAG