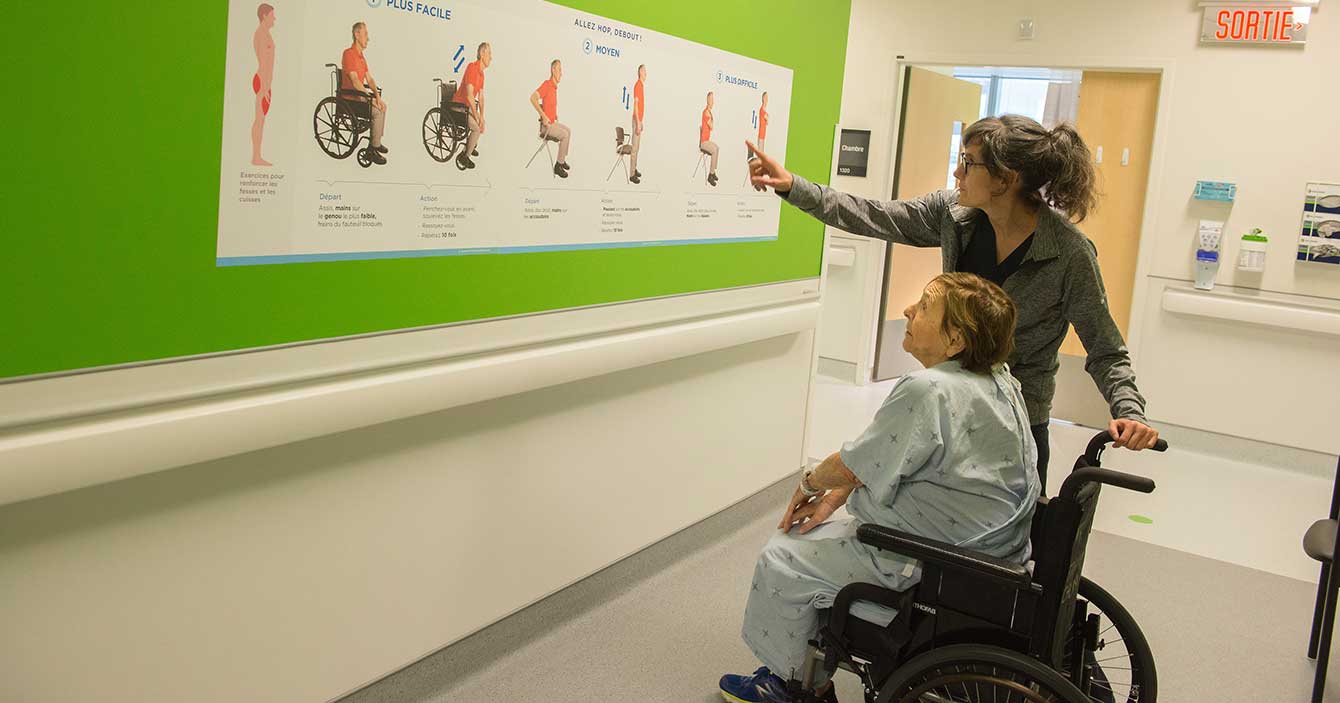 A hospital corridor has been transformed into an exercise track for patients in the CHUM's stroke unit, thanks to the new LOCOMOTIVE circuit that provides information and exercises to get patients moving, keep their minds active and encourage human contact following a stroke. Consisting of posters, including illustrations created by Jean-Pierre Coallier, LOCOMOTIVE facilitates brain recovery, one step at a time. CRCHUM clinical research Line Beaudet is a co-leader of the project with Dr. Céline Odier, a vascular neurologist, nurse clinician Judlène Joltéus and physical therapist Marie-Andrée Desjardins.
Presented concurrently with Innove-Action, an event unlike any other in Quebec showcasing human innovations and artificial intelligence to improve health care and meet the needs of the population, the LOCOMOTIVE circuit was designed to be used by hospitalized patients: "Studies show that 75% of stroke patients are inactive during the day when hospitalized. However, exercise, communication and sensory stimulation are essential to regaining skills such as speech or the ability to walk", indicated Dr. Céline Odier. "The goal with LOCOMOTIVE is to encourage patients to be as active as possible. We want to give them the desire and the tools to get involved in their rehabilitation. It also provides an opportunity to talk about stroke and its effects and challenges, to discuss ways of lowering the risk of a repeat stroke and to support family members. The circuit continues and completes the patient education process done by the interdisciplinary team."
All aboard! Become a train conductor!
The LOCOMOTIVE circuit was inspired by the Swiss VITA concept introduced by Dr. Céline Odier, which consists of fitness trails in wooded areas. It offers 3 different types of stations that give patients and their relatives tools to deal with the disease:
1) Exercises (sit-to-stand and speech exercises)
2) Information (stroke symptoms and treatment)
3) Self-training (balanced meals, fatigue management, communication, etc.)
At this time consisting of 13 posters and 18 illustrations created by patient partner Jean-Pierre Coallier, LOCOMOTIVE is readily identifiable thanks to the coloured dots on the floor. It can be followed in any direction or order. It is accessible to all patients, including patients with speech disorders and those in wheelchairs, whether they are autonomous or not.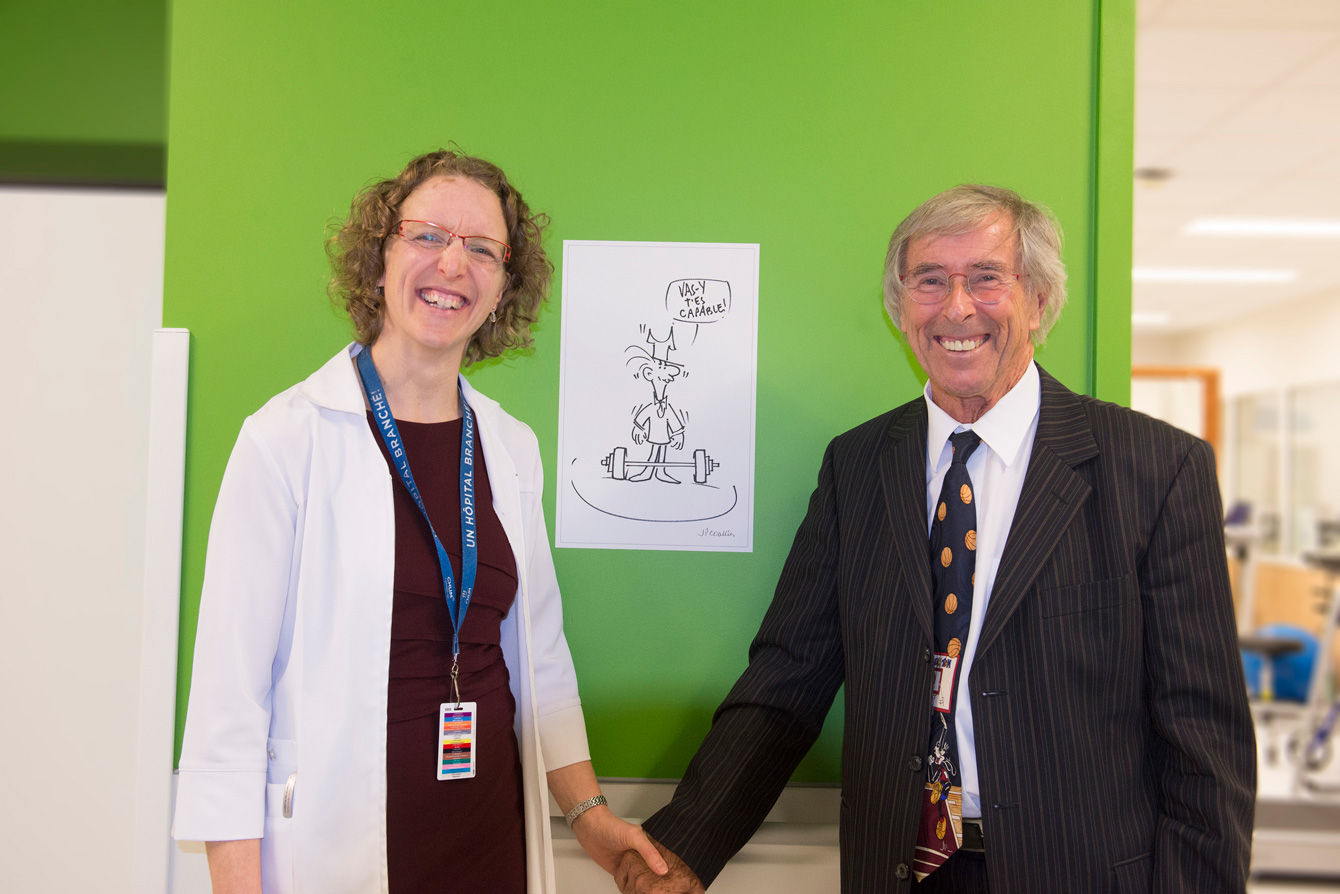 First step towards networking
The first phase of the LOCOMOTIVE project, launched in the fall of 2019, was completed thanks to the collaboration of Jean-Pierre Coallier, a cartoonist and CHUM patient who had suffered a stroke in 2009, Heart & Stroke https://www.heartandstroke.ca/, 7 patient partners and many CHUM employees. Additional development phases should bring the total number of posters to 18 by the summer of 2020.
The entire project is underpinned by a scientific approach, which will evaluate the qualitative and quantitative results of the LOCOMOTIVE circuit. Feedback tools have also been developed to gather comments from patients, their family members and staff in order to continually improve the circuit. Once validated, the concept can be shared with other units and exported to other institutions in the health system and the community. Through innovation and research, the CHUM is helping to improve the quality and safety of the care provided to Quebec patients and their families.
With the CHUM's Centre de référence des anomalies neurovasculaires rares, the LOCOMOTIVE circuit is one of the projects that was presented as part of Accreditation Canada's Stroke Distinction program https://accreditation.ca/stroke-distinction. It was also the topic of several national and international communications in Quebec, Canada and France.
To consult the LOCOMOTIVE website (in French) : LOCOMOTIVE
To read the Accreditation Canada's Stroke Distinction visit report (in French) : PDF