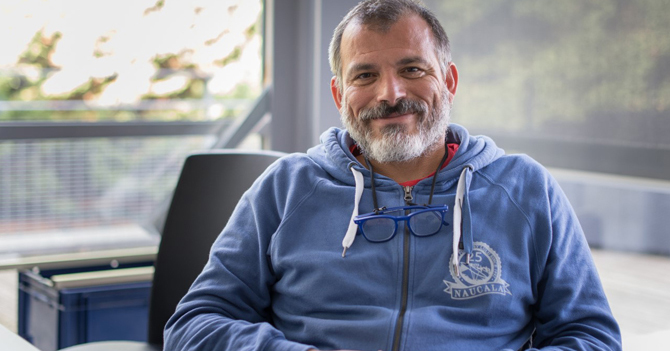 On Friday, January 10, 2020, the CRCHUM Conferences will host Giovanni Marsicano, research director INSERM in the NeuroCentre Magendie at Université de Bordeaux.
Abstract
Brain cannabinoid CB1 receptors are centrally involved in the pathophysiology of psychoses. However, the mechanisms involved are scantly studied, because of the lack of suitable animal models.
Most of learning and memory studies in laboratory animals over the last decades focus on "direct" conditioning associations. In these settings, a conditioned stimulus with low-salience (i.e. with low intrinsic attractiveness or repulsiveness, such as a tone or a light) is temporally associated with an unconditioned high-salience stimulus (e.g. with high attractiveness or repulsiveness, such as shocks or food).
However, large part of learning processes involves "incidental" associations between low-salience stimuli, whose simultaneous occurrence is temporally stored because of its potential value for future experiences. Interestingly, alterations in different phases of incidental learning are thought to ground major psychopathological conditions, such as psychotic-like delusions.
Recent data from our laboratory show that hippocampal CB1 receptor signaling plays a key role in incidental learning processes in physiological and pathological conditions.
Guest of Stéphanie Fulton and Didier Jutras-Aswad. Cardiometabolic axis and Neurosciences axis.
This conference will be presented in English.
Friday, January 10, at noon
Auditorium of the CRCHUM , R05.210 and R05.220
900 Saint-Denis Street, 5th floor
Montreal (Quebec), H2X 0A9
Giovanni Marsicano, Ph.D., D.M.V.
Research director INSERM, Team Endocannabinoids and Neuroadaptation, NeuroCentre Magendie, Université de Bordeaux
About CRCHUM Conferences
The CRCHUM Conferences are free weekly meetings featuring renowned scientific speakers from various disciplines. These conferences are accredited by the Royal College of Physicians and Surgeons of Canada as continuing professional development activities.

About our scientific activities
> Schedule of the CRCHUM Conferences and the scientific activities at the CRCHUM (in French)