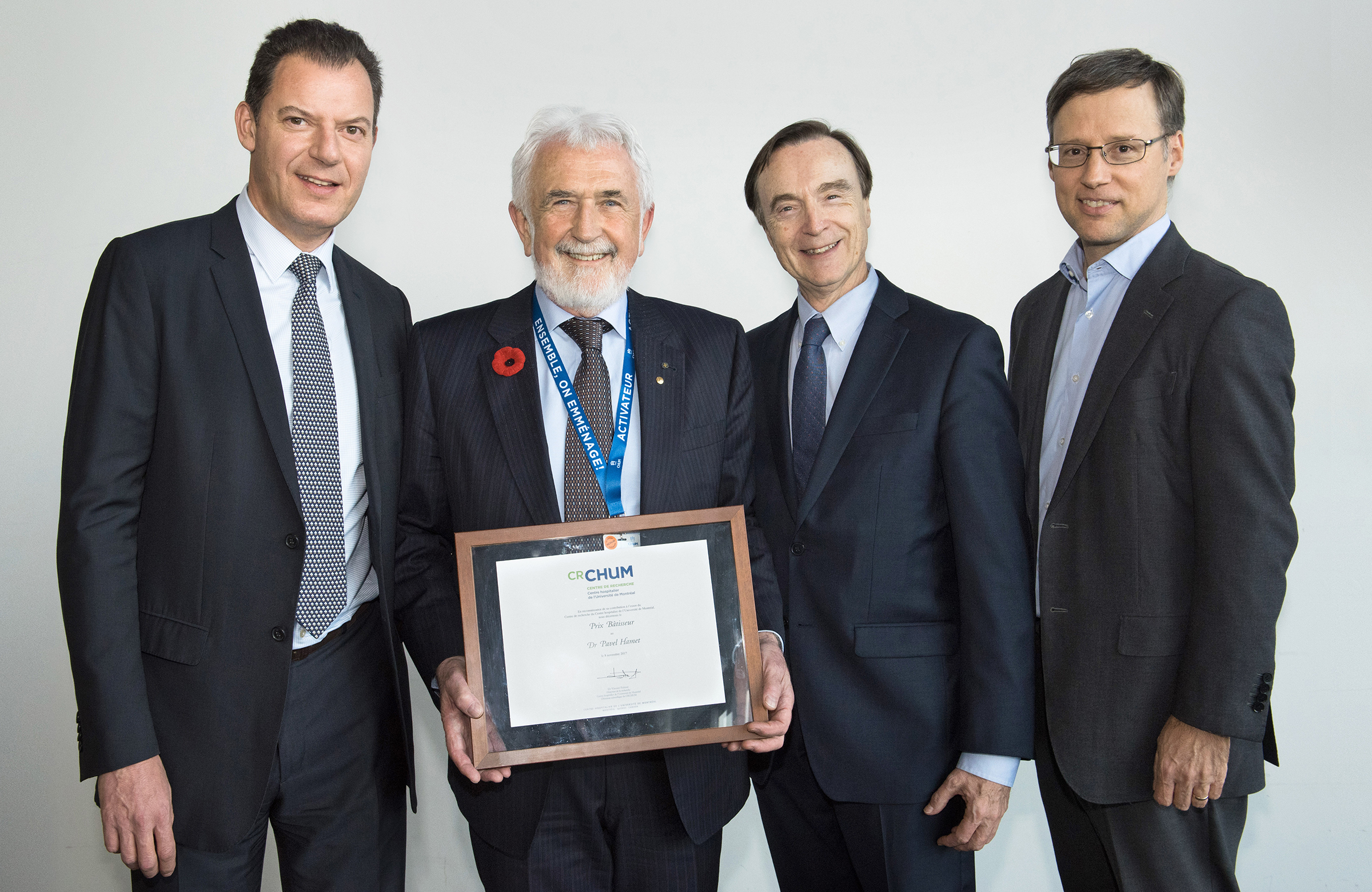 The management team of the University of Montreal Hospital Research Centre (CRCHUM) is proud to present the Bâtisseur award to doctor and researcher emeritus
Dr. Pavel Hamet
, who founded and directed the Research Centre from 1996 to 2006. This prestigious award was given to him during an official ceremony on November 8, 2017. "Dr. Pavel Hamet laid the foundation for our Research Centre. Without his determination and courage, the CRCHUM today would not be a world-class centre in the field of health. He has also made his mark through research into diabetes, high blood pressure and precision medicine. For all his outstanding contributions, I am honoured to present him with the Bâtisseur award," stated
Vincent Poitout,
Director of the CRHCUM and Director of Research at the CHUM
A regular researcher, the head of the CHUM's Department of Genetic Medicine and a professor of medicine at the Université de Montréal, Hamet is also the Canada Research Chair in Predictive Genomics.
Hamet was the first director of the CRCHUM, created when the CHUM officially opened on October 1, 1996. He held this position for 10 years, contributing greatly to infrastructure acquisition and research development. He has had a prolific scientific career for 50 years, with more than 575 publications to his credit. Among his most significant contributions are defining the role of messenger cGMP in the signal transduction of several hormones, improving high blood pressure treatment in Canada and contributing to diabetes research.
A pioneer in the field of genetic medicine in Quebec, he continues to work on the development and implementation of personalized medicine for the prevention of high blood pressure and diabetes and the treatment of people with these chronic diseases, which are still a major public health problem. He is working on fine-tuning a diagnostic test to prevent the vascular complications of diabetes.
The Bâtisseur award honours a CRCHUM researcher for their contribution to the growth of the Research Centre. After Dr. Jacques Turgeon in January 2015, Dr. Pavel Hamet is the second person to receive this award.