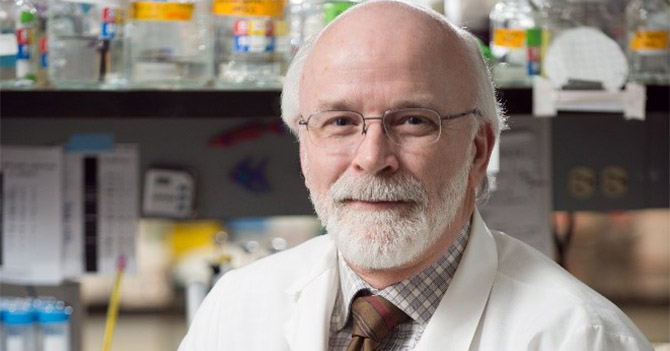 On Friday, November 29, 2019, the CRCHUM Conferences will host Michael Strong, distinguished university professor at Western university, scientist at Robarts research institute and president of the Canadian institutes of health research.
Abstract
We will examine the evidence for alterations in RNA biogenesis in the pathogenesis of ALS. In doing so, I will focus on the role of dysmetabolism of RNA binding proteins and in specific, Rho Guanine Nucleotide Exchange Factor (RGNEF), as key contributors to the disease process. We will also examine the role of the RGNEF N-terminus leucine rich domain as a critical modulator of the toxicity of TDP-43 in vivo.
This conference will be presented in English.
Friday, November 29 at noon
Auditorium of the CRCHUM , R05.210 and R05.220
900 Saint-Denis Street, 5th floor
Montreal (Quebec), H2X 0A9
Michael Strong, M.D., FRCPC
Distinguished university professor, Western university
Scientist, Robarts research institute
President, Canadian institutes of health research
About CRCHUM Conferences
The CRCHUM Conferences are free weekly meetings featuring renowned scientific speakers from various disciplines. These conferences are accredited by the Royal College of Physicians and Surgeons of Canada as continuing professional development activities.

About our scientific activities
> Schedule of the CRCHUM Conferences and the scientific activities at the CRCHUM (in French)