M.D., Ph. D., M. Sc., FRCPC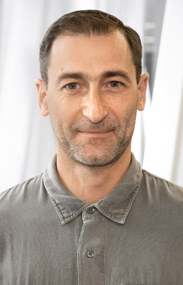 Centre de recherche du CHUM
Neuropathologist
Department of Pathology, Clinical Department of Laboratory Medicine, CHUM
Assistant Clinical Professor
Department of Pathology and Cell Biology, Faculty of Medicine, Université de Montréal
Contact
romain.cayrol@umontreal.ca
514 890-8000, ext. 20982
The patient who needs immediate assistance should not communicate directly with the researcher. Instead, they should call the doctor's office or take other appropriate measures, such as going to the nearest emergency service.
Keywords
Neuropathology
Neuroscience
Molecular pathology
Central nervous system tumors
Gliomas, meningiomas
Pituitary adenomas
Neuroimmunology
Neurodegeneration
Inflammatory myositis
Research interests
Molecular signatures of central nervous system tumors.
Brain repository for patients with progressive supranuclear palsy.
Role of inflammation, colloids and MFG-E8 in subarachnoid hemorrhages.
Use of Raman spectrometry for the identification of cortical dysplasia.